Biosafe, hygiene and infection control
Pseudomonas aeruginosa mostly contaminates mixers and taps at the terminal, i.e. inside the spout and its outlet. As a result, this part of the mixer/tap should be the subject of special attention in order to limit bacterial development. To this end, DELABIE has designed specialist controls that facilitate preventative action and, if necessary, curative action if contamination occurs.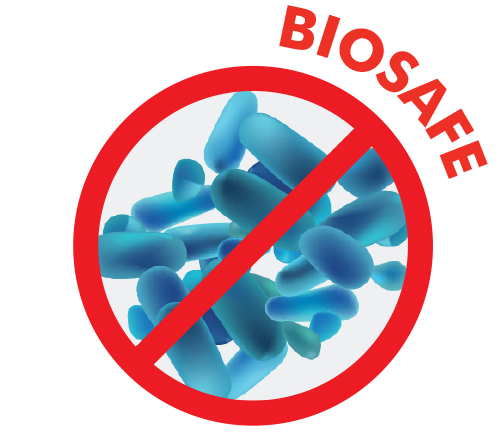 BIOCLIP removable mixers and taps for cleaning/disinfection
The BIOCLIP range of mixers and taps can be fitted with specialist spouts and/or the whole interior can be cleaned – the only way to eliminate biofilm completely - helping to fight effectively against bacterial development.
Mixers with removable BIOCLIP spouts
 Depending on the model, mixers are supplied with two stainless steel spouts or one disposable spout. Alternative options are:
Stainless steel spouts: the second stainless steel spout ensures continuous use while the first is being cleaned.
Disposable spouts: each spout must be replaced periodically, depending on the type of installation.
BIOFIL filtration spouts: these spouts guarantee the bacteriological quality of the water.
BIOCLIP removable mixers
Mixers that can be completely removed from their base for curative or preventative measures in healthcare facilities:
Curative action: bacteriological monitoring in healthcare environments sometimes requires remedial action. If mixers and taps are contaminated by Pseudomonas aeruginosa or Legionella etc., they can be easily removed by maintenance staff to enable the interior to be completely cleaned.
Preventative action:  to minimise bacterial proliferation in mixers and taps, we recommend concentrating on preventive measures.
BIOCLIP mixers and taps allow healthcare facilities to establish regular cleaning protocols (from every 6 months to every 2 years depending on the type of facility) to eliminate biofilm and bacteria.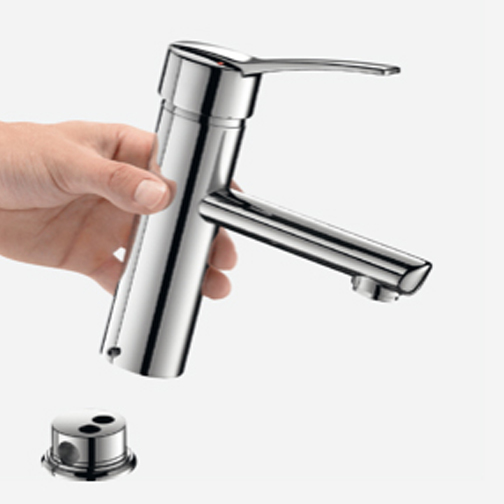 Mixers and taps with Low volumes of standing water
Some DELABIE mixers have specifically designed interiors that reduce the amount of standing water in the body, and thus significantly reduce the risk of bacterial development.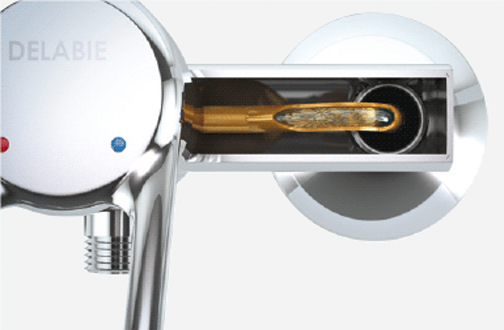 Mixers and taps with smooth interiors
Stagnant water is one of the main causes of bacterial development in water systems. To prevent water stagnation in mixers and taps, all DELABIE's electronic controls are programmed with a periodic duty flush to prevent bacterial proliferation. An automatic flush takes place for ~60 seconds every 24 hours after the last use (certain models can be programmed). Thus bacteria don't have time to develop.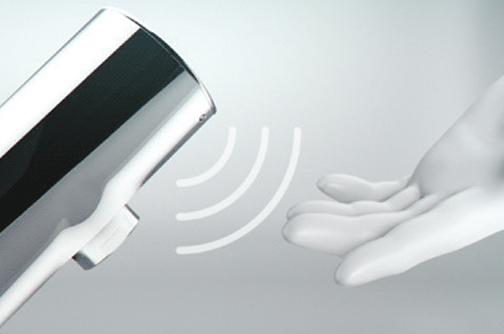 BIOFIL terminal filtration
BIOFIL antibacterial filters guarantee bacteriologically controlled water at the point-of-use and protect the user's well-being.
Each BIOFIL filter incorporates a hollow fibre membrane with a water filtration threshold of 0.1 micron absolute-rated. They deliver water free from microorganisms, providing total protection against waterborne infection. The BIOFIL range includes cartridges, shower heads and filtration spouts.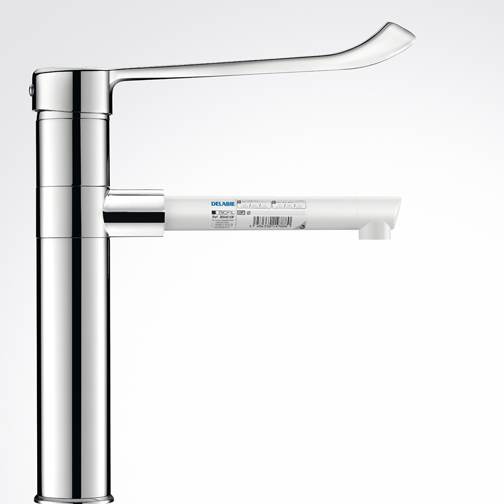 BIOSAFE hygienic spout outlet
Made from Hostaform®, its smooth internal surface provides nowhere for impurities or scale to adhere (no grid, partitions or star-shaped structure) reducing the emergence and spread of bacteria and germs in damp conditions.
They can only be installed on a mixer or tap that already has a restricted flow rate to ensure a good flow with no splashing.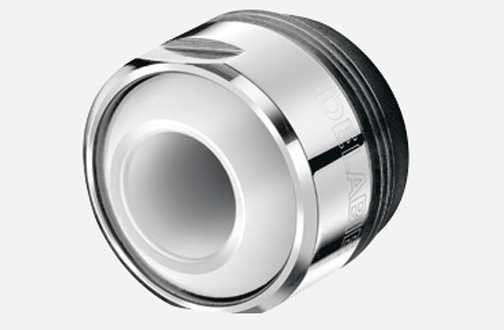 Securitherm, maximum anti-scalding safety
HSG guidelines state that where a significant risk of scalding has been identified, point-of-use TMVs should be considered to deliver water at safe temperatures to protect the users from any risks of scalding.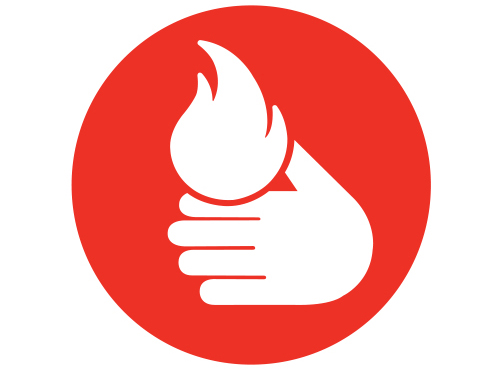 Mixers with a temperature limiter
All DELABIE mixers are supplied with a maximum temperature limiter. The user cannot increase the temperature above the temperature limit reducing the risk of scalding.
The temperature limiter is set at the factory to save time during installation, but it may be adjusted by the installer.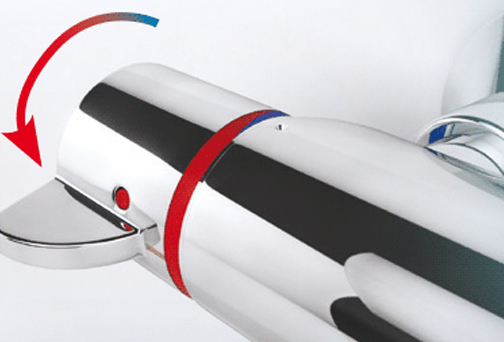 Mixers with automatic hot and cold water shut-off
SECURITHERM technology ensures immediate hot water shut-off if the cold water supply fails. The hot water shuts-off completely. If the hot water supply fails, DELABIE's SECURITHERM mixers also shut-off the cold water. This avoids the risk of cold showers which may result in a loss of balance or a fall.
Mixers that regulate the temperature
SECURITHERM thermostatic mixers regulate the temperature precisely, even if there are pressure variations between the hot and cold water supplies.
Thermostatic mixers can be single or dual control. The former have the advantage of a single mechanism which holds less water. In addition, they do not require non-return valves on the inlets, reducing the risk of bacterial development without any risk of cross-flow between the cold and hot water.
Mixers with Securitouch thermal insulation
DELABIE has placed an increased emphasis on safety with its new generation of Securitouch mixers. In general, the bodies of mixers are made from chrome-plated brass. Since metal is an effective heat conductor, it is very easy for people to burn themselves even when only brushing against the surface of the mixer. This may be the case if someone slips or loses their balance in the shower.
Individual SECURITHERM thermostatic mixers:
SECURITHERM thermostatic mixers have been designed so that there is no thermal conduction along the mixer body, which prevents any risk of burns if touched.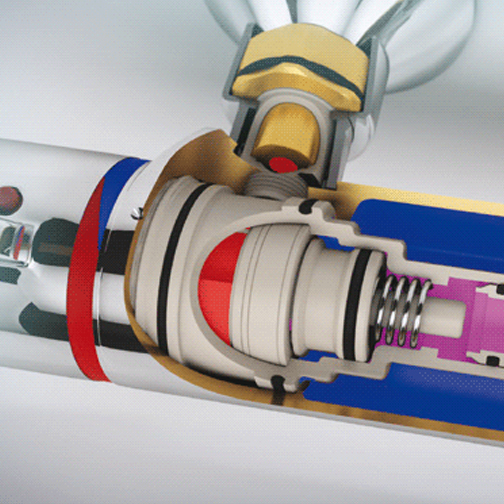 SECURITHERM mixers with EP cartridges:
The body of the wall-mounted SECURITOUCH EP mechanical mixer is insulated from the hot water.
Hot water flows from the inlet to the cartridge inside narrow tubes without coming into contact with the brass walls of the mixer body.
Any risk of burning by touching or accidentally brushing against the mixer in case of a fall is therefore totally removed.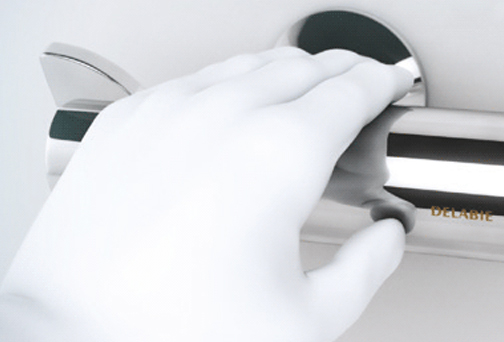 With SECURITHERM thermostatic mixers it is possible to undertake thermal shocks at the temperature of the hot water in the system.
Domestic washbasin mixers and taps do not provide the necessary level of comfort for the residents of healthcare facilities and retirement homes. These domestic mixers/taps are designed for personal washing (for face washing or cleaning teeth etc.) and are not designed for washing the whole body.
Unsuitable dimensions
Residents in healthcare facilities include the sick, weak, elderly or physically handicapped. The mixers and taps used for personal hygiene should be suitable for the resident's physical needs and the required use (washing at a hand basin requires greater comfort). To ensure optimised washing, mixers and taps should have an increased spout height and projection.
Lack of Ergonomics
The control knobs of conventional mixers and taps are not designed for easy gripping. Moreover, the movement required to adjust the flow rate and temperature is not always smooth. As a result, residents in healthcare facilities and retirement homes have to make an additional effort to operate the mixer or tap.
Specific dimensions: high and extended spout (projection)
The dimensions of mixers and taps destined for patient bathrooms must be suitable for their range of movements, and offer them all the ease and comfort they require. DELABIE offers mixers and taps with higher spouts (drop height ≥ 95mm) and longer spouts (spout projection ≥ 135mm) than traditional mixers and taps. This allows patients to optimise hand washing and personal washing.
Moreover, an increased drop height reduces the risk of bacteria splashing back from the waste or drain onto the spout.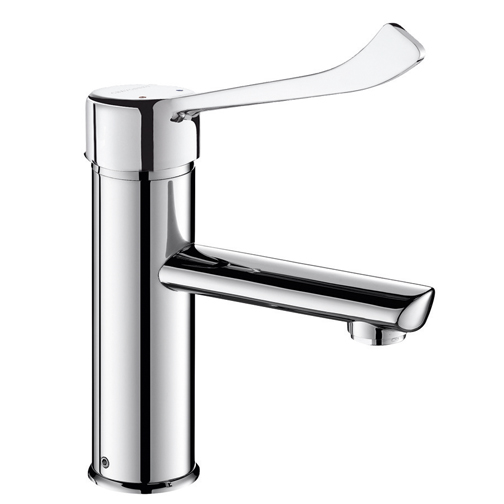 DELABIE offers a wide choice of ergonomic controls to meet the specific needs of different users:
Controls with manual contact:
Sculptured levers that are easy to grip.
Solid levers that combine design and ergonomics.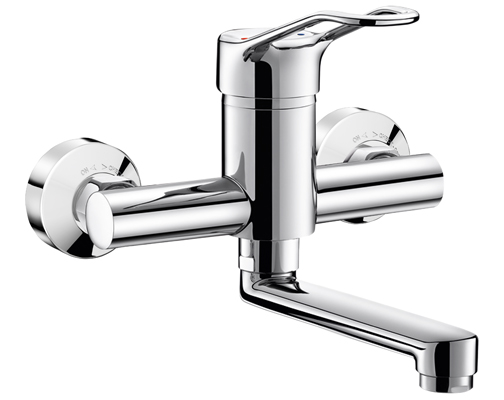 Controls with no manual contact:
Medical levers specifically designed for healthcare professionals and patients with reduced mobility, which can be controlled without manual contact using the wrist, forearm or elbow.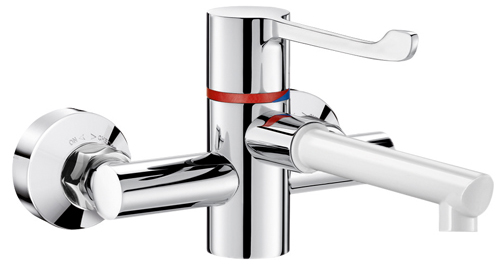 Infrared presence detection:
DELABIE's electronic mixers and taps do not require any effort from the patient. The mixer/tap opens and closes automatically when hands are presented in the detection zone (with no manual contact) for superior comfort.
Besides the convenience and comfort they provide for the residents, these mixers and taps - which operate without manual contact - help prevent the spread of germs by hand (perfect hygiene).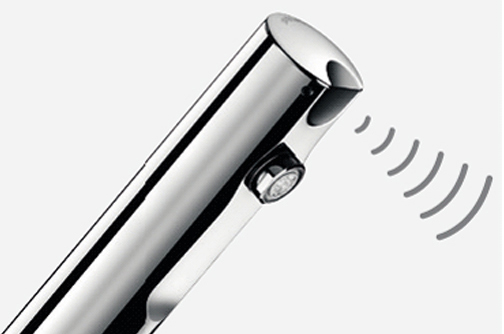 At home the shower is the preferred means of washing; however this is not the case in hospitals or care homes.
Patients or residents tend to wash at a basin rather than take a shower as they have reduced autonomy (e.g. those weakened by illness, the elderly, semi-bedridden patients, those recovering from surgery, etc.).
Washing at the washbasin takes longer (14 - 20 minutes) than showering (8 - 10 minutes on average) and involves a significant amount of water.
Average water consumption per person per day:
Domestic consumption: 137 litres per day per person.
Hospitals or similar: 300 - 450 litres per day per bed.
Retirement homes or care homes: up to 250 litres per bed.
DELABIE's mechanical mixers for washbasins deliver more than 45% water savings
Most mixer manufacturers regulate the flow rate inside the cartridge or at the mixer outlet. This inevitably creates counter pressure in the mixer, resulting in interconnection between the hot and cold water.
All DELABIE basin mixers with ceramic cartridges are fitted with a flow rate limiter at the hot and cold water inlets to achieve 5 lpm at the outlet. The water savings achieved are about 45% and user comfort is maintained. Controlling the flow rate at the inlet instead of the outlet prevents the cross-flow between hot and cold water, which causes the proliferation of bacteria upstream of the mixers.
DELABIE's electronic mixers for washbasins: 90% water savings
Compared to conventional mixers, DELABIE's electronic mixers maximise water savings. They maintain user comfort while optimising the water bill.
Automatic shut-off and split delivery
The mixer closes automatically when hands are removed from the detection zone. There is no risk of waste if the user forgets to turn off the mixer. The anti-blocking mechanism activates to prevent the mixer from flowing continually. The flow time is reduced to the necessary minimum (wetting, rinsing).
3 lpm flow rates
DELABIE's electronic mixers and taps are set at 3 lpm. The flow rate remains constant regardless of pressure fluctuations in the system. The flow rate is pre-set at 3 lpm at 3 bar. However, it can be adjusted from 1.5 - 6 lp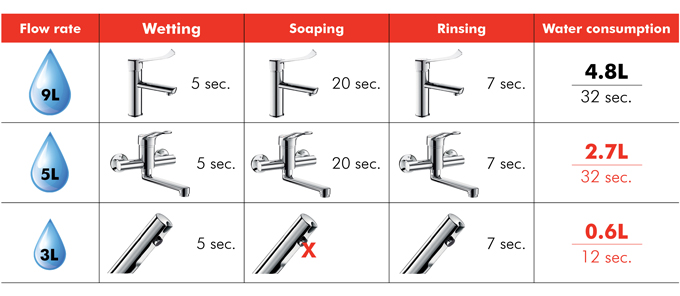 The water savings generated allow energy savings (the amount of water saved does not need to be heated), and less equipment is required. Lower flow rates and water consumption mean that lower capacity pipe work and water heating equipment can be installed.
DELABIE's electronic mixers and taps (mains or battery-operated) require less energy to operate. DELABIE has chosen infrared active pulse technology, a low-power consumption solution. The infrared beam is emitted intermittently, saving energy while ensuring effective detection.
The electronic models have an average battery life of 350,000 cycles (or 3 - 6 years) depending on the frequency of use. The Lithium batteries are widely available, affordable and recyclable.
DELABIE supports environmental schemes for buildings such as BREEAM, LEED, HQE, ESTIDAMA, etc. Optimised flow rates and split water delivery are the means of reducing water and energy consumption. DELABIE's mixers and taps can help buildings achieve the highest performance levels within these schemes.