Date: July 25, 2022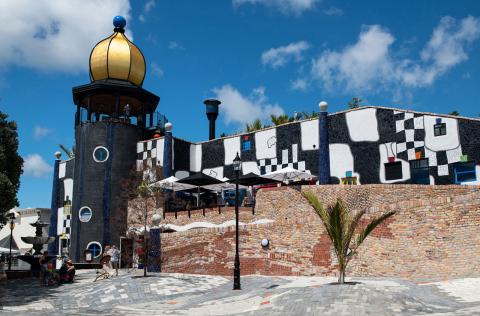 Project: Hundertwasser Art Centre
Sector: Art Gallery
Location: 81 Dent Street, Whangarei Town Basin
Project complete: Feb 2022
Client: Whangarei District Council
Architect: The original Hundertwasser architecture vision was brought to life by German architect Heinz M. Springmann and Grant Harris of HB Architecture in New Zealand
Building Contractor: Trigg
Value: $33million
---
Friedensreich Hundertwasser was one of the 20th centuries most celebrated artists and became renowned for his revolutionary architecture.
The Austrian artist permanently moved to New Zealand in the 1970s and spent 30 years living near Kawakawa before his death in 2000.
Hundertwasser was invited by the Mayor of Whangarei to design an art centre for the city and he chose the former Northland Harbour Board Building in the town basin. More than 20 years after inception, the celebrated iconic landmark Hundertwasser Art Centre with Wairau Maori Art Gallery opened in February 2022, the last authentic Hundertwasser building in the world. Hundertwasser famously refused to use straight lines in his uniquely organic art and architecture because 'there are no straight lines in nature'.

BRIEF
• A stylish, minimalist plumbing footprint and aesthetic, giving the art and architecture room to show its maximalist uniqueness, romanticism, & creativity.
• Ecological sustainability being the main principle of the build, harness water-saving where possible. This magnificent building uses 40,000 recycled bricks, 1600 cubic meters of recycled native timber of the original building, 5,000 recycled pavers and 3,000m2 of locally crafted tiles alongside enduring new material from NZ and Europe.
• Durable fixings to support high traffic with 7-day a week operating hours and forecasted quarter of a million visits a year.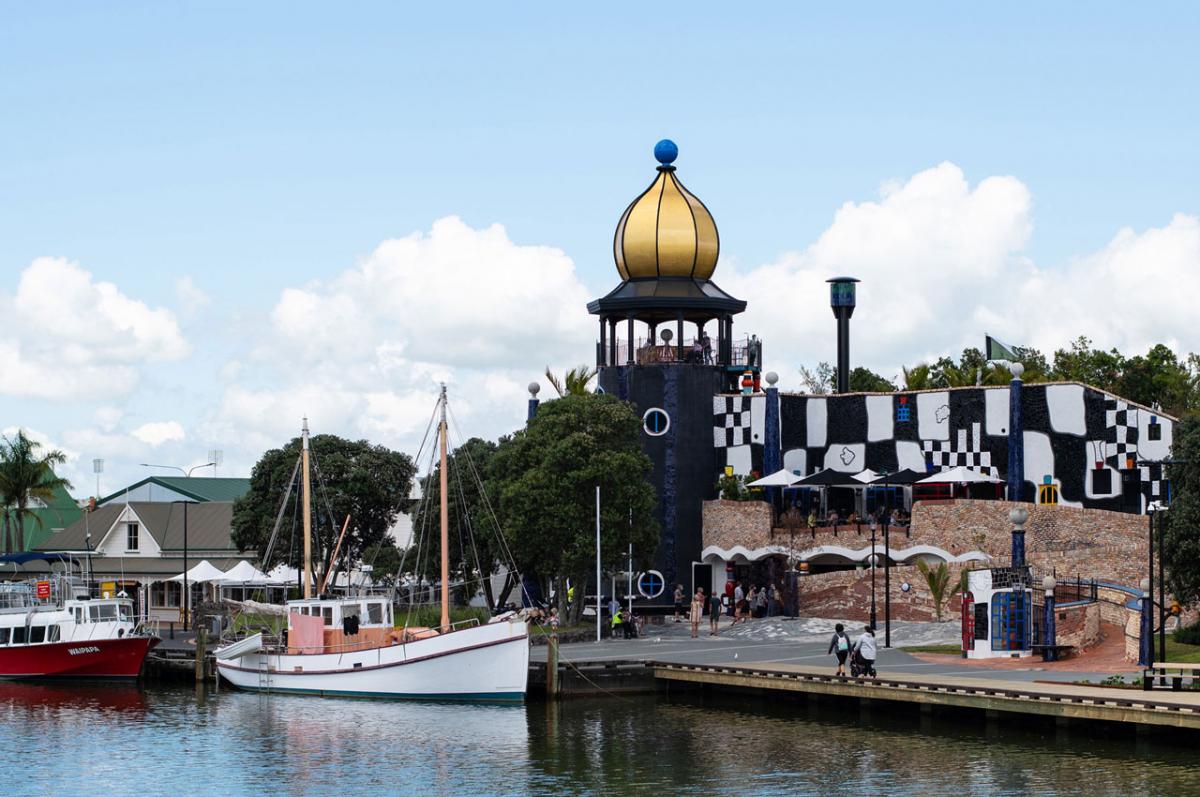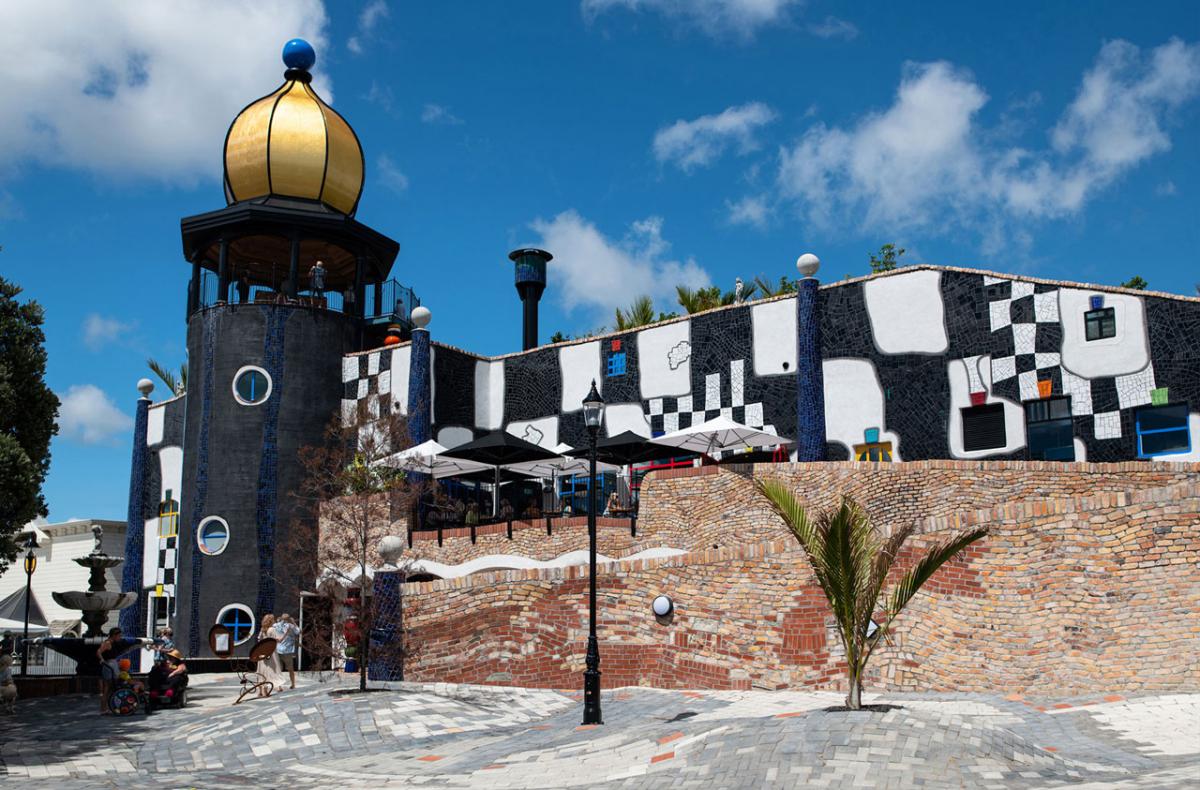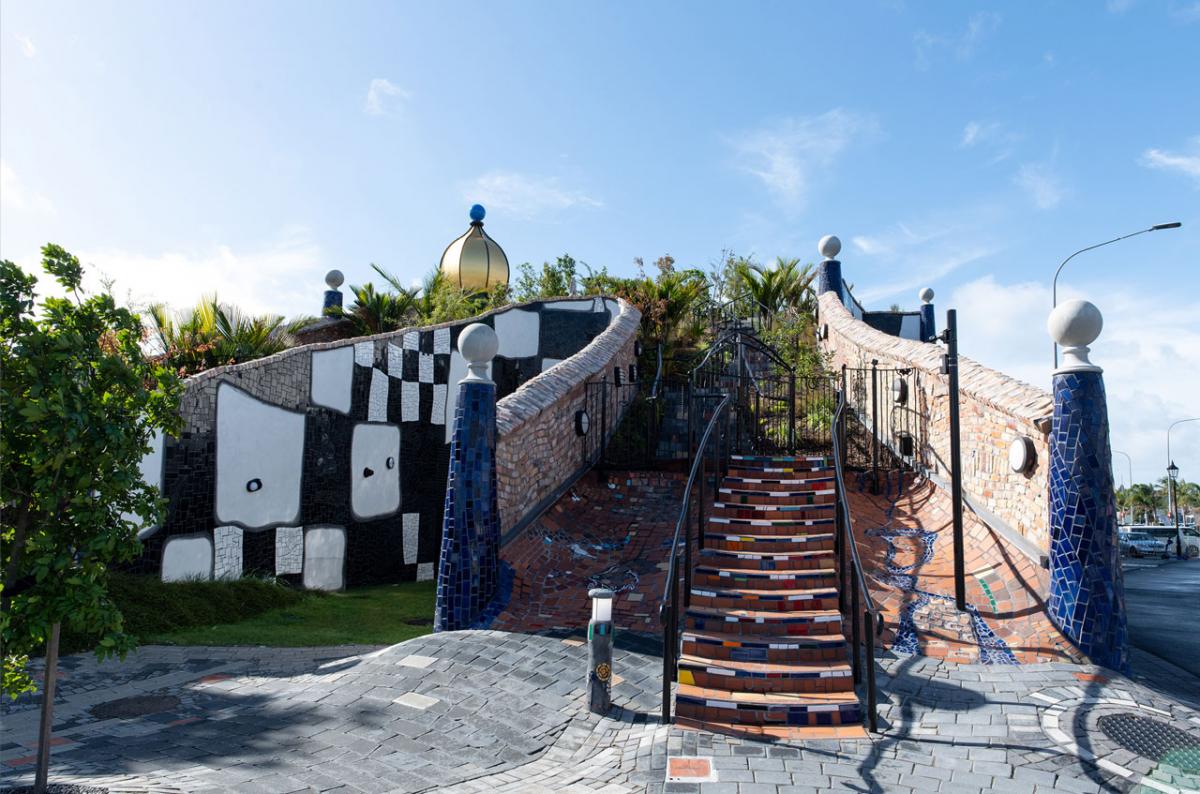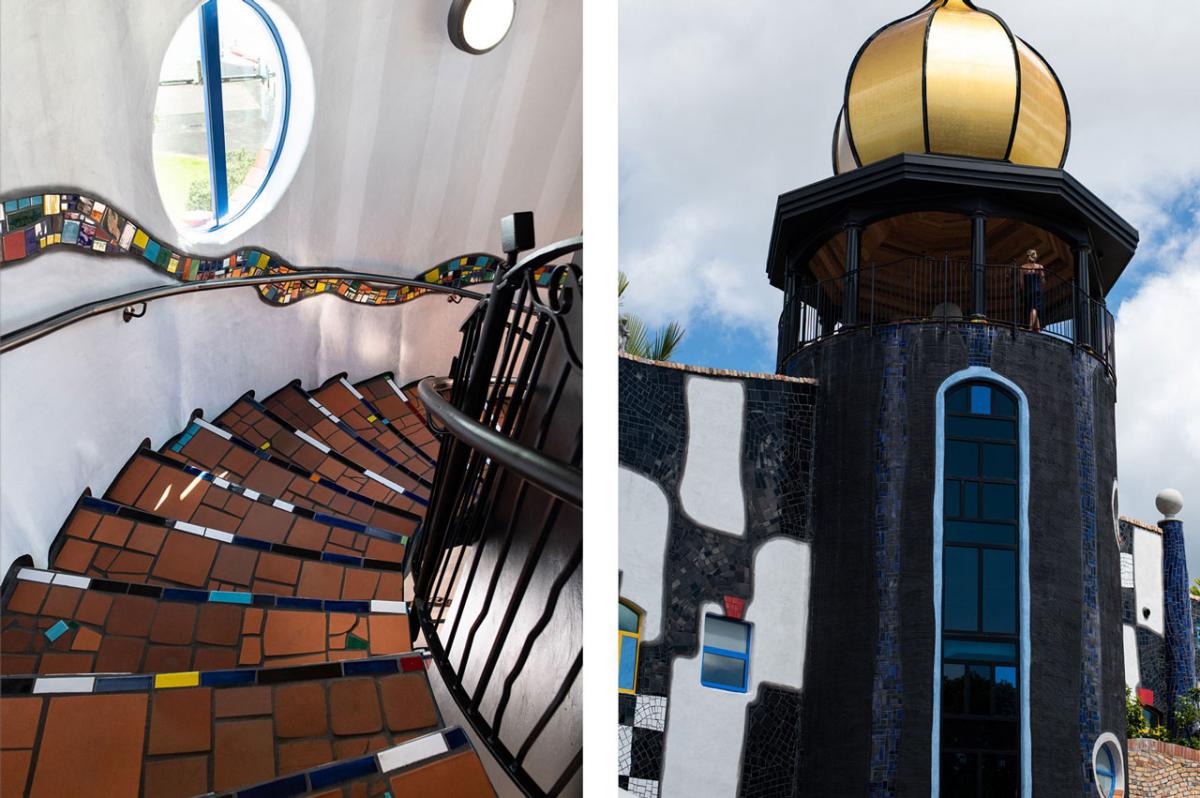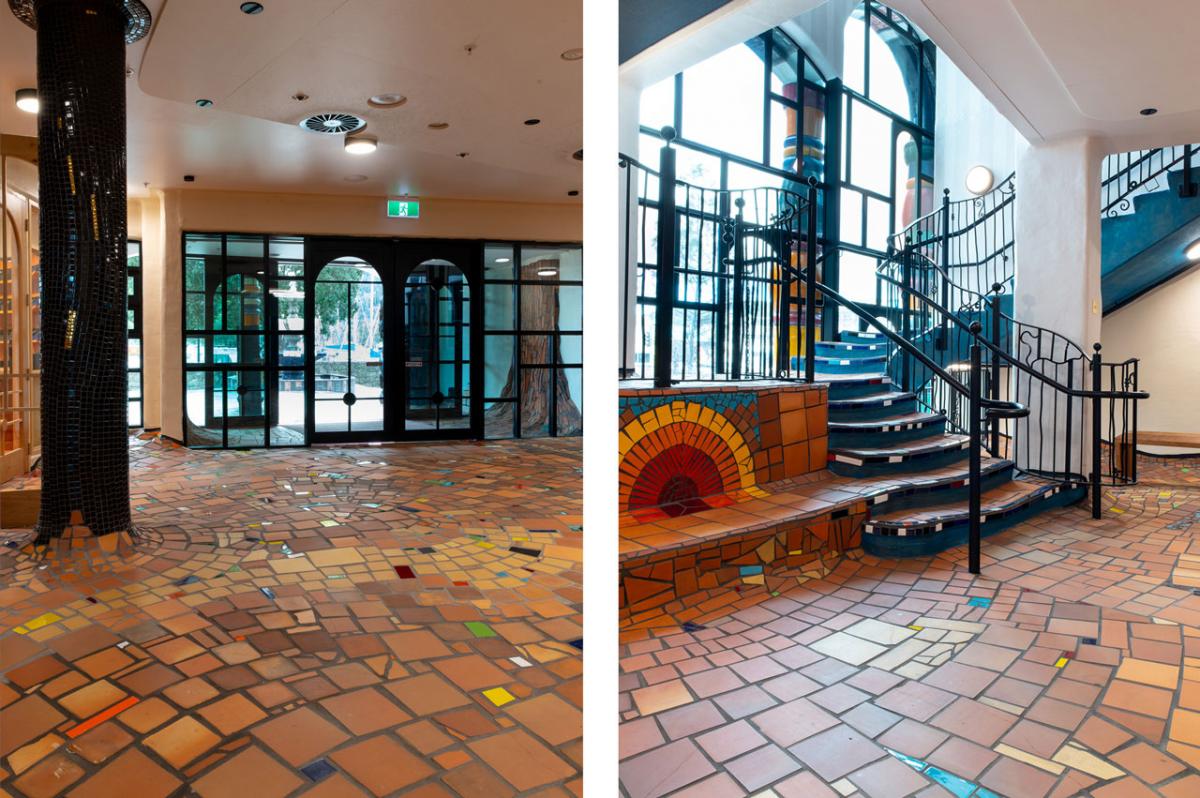 SOLUTION
Delabie Taps
The Delabie temposoft taps have a smooth design with soft touch operation, allowing ease of use for all ages. Pre-set at 3lpm (adjustable from 1.4-6lpm) these taps can achieve an 85% water saving.

The Delabie lever taps were installed in accessible bathrooms providing easy use for visitors and complies with NZ4121. With a set run time of approximately 7 seconds both these taps ensure that water wastage is kept to a minimum.

RAK Rimless Toilets
RAK Resort Rimless wall faced pan delivers the ultimate in hygienic WC pans. Its Rimless technology ensures water is evenly projected around the front of the toilet pan giving a comprehensive clean flush. Rimless flushing makes it easier to clean and reduces bacteria and dirt by more than 90%.

Paired with the Zurn dual flush valve (ZDH-6152XL) it gives considerable water saving with a 3L ½ flush, achieving a 3 star WELS rating. Zurn valves proven consistent performance, and on demand flushing is a great solution for high foot traffic areas. The vandal proof button panel provides ease of access for maintenance of the valve.
Chris Ford Managing director of MacDonald Industries says "Careful thought went into the selection of toilet and basin products for each stall to create a diverse array of selections, while the clean sleek forms of the RAK toilets provides a juxtaposition to the highly patterned walls and floors"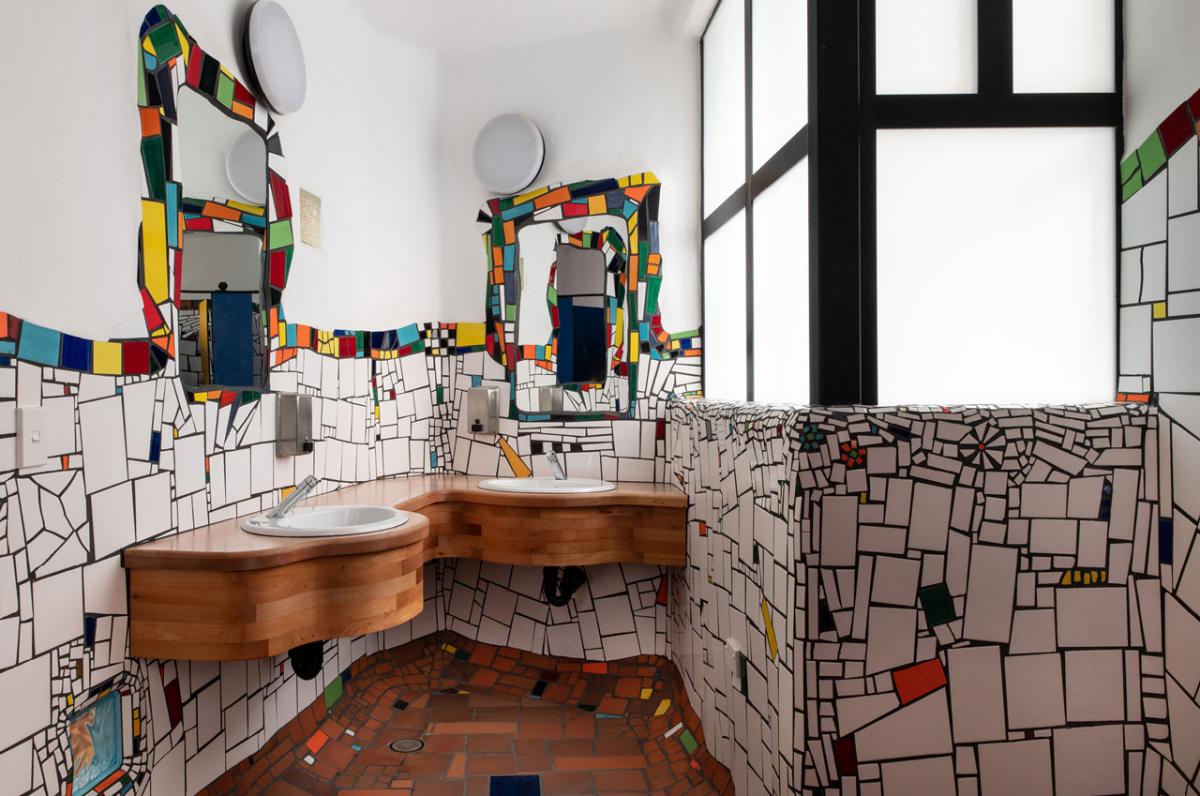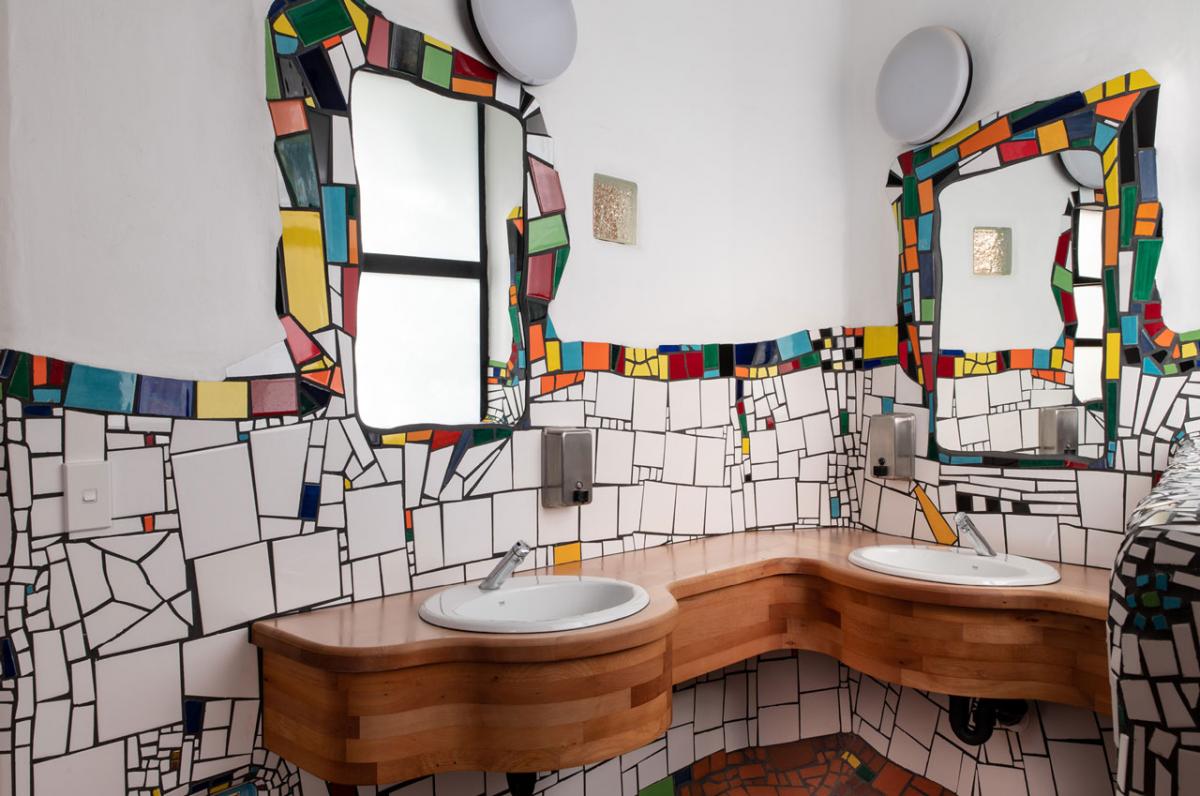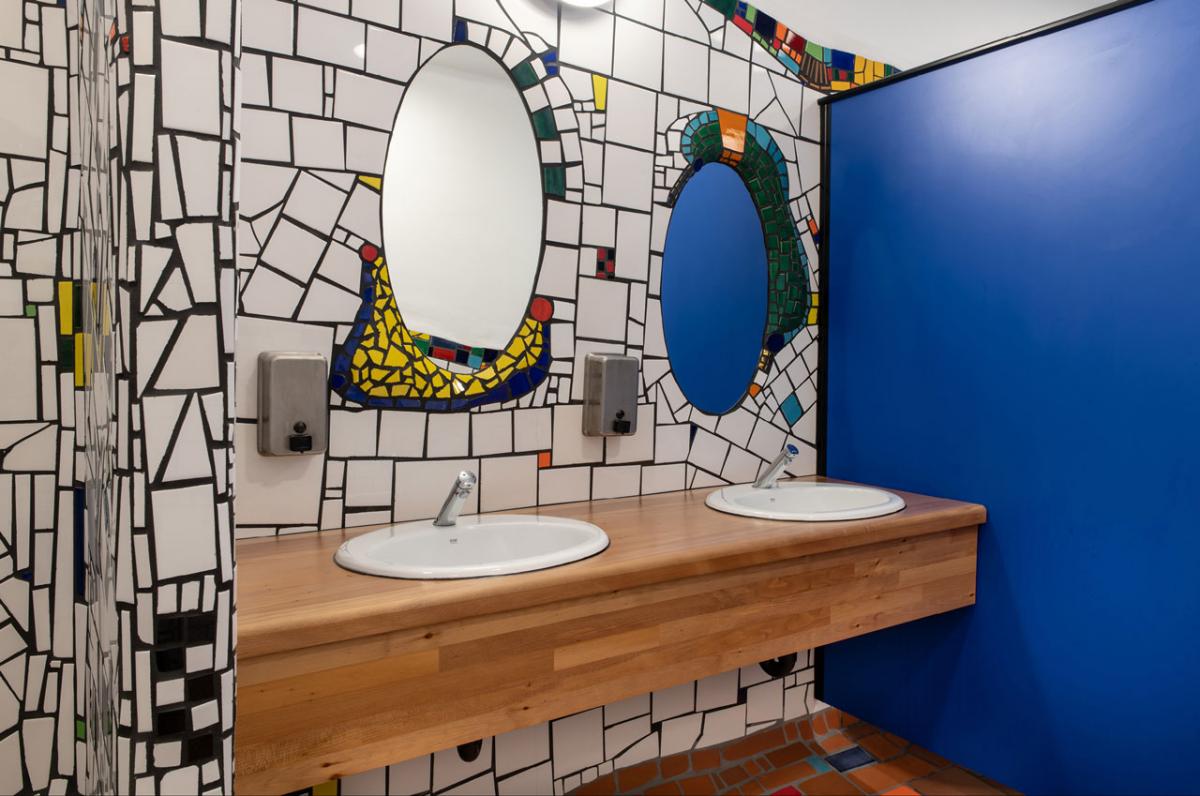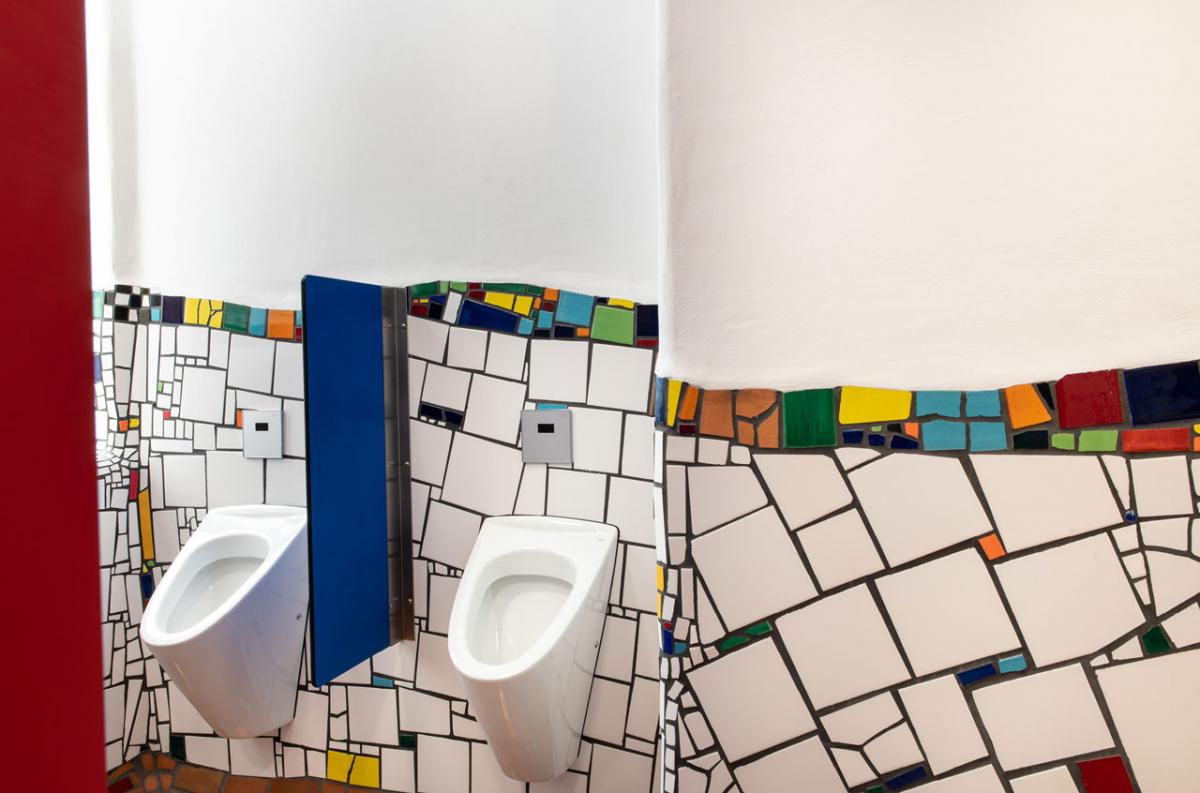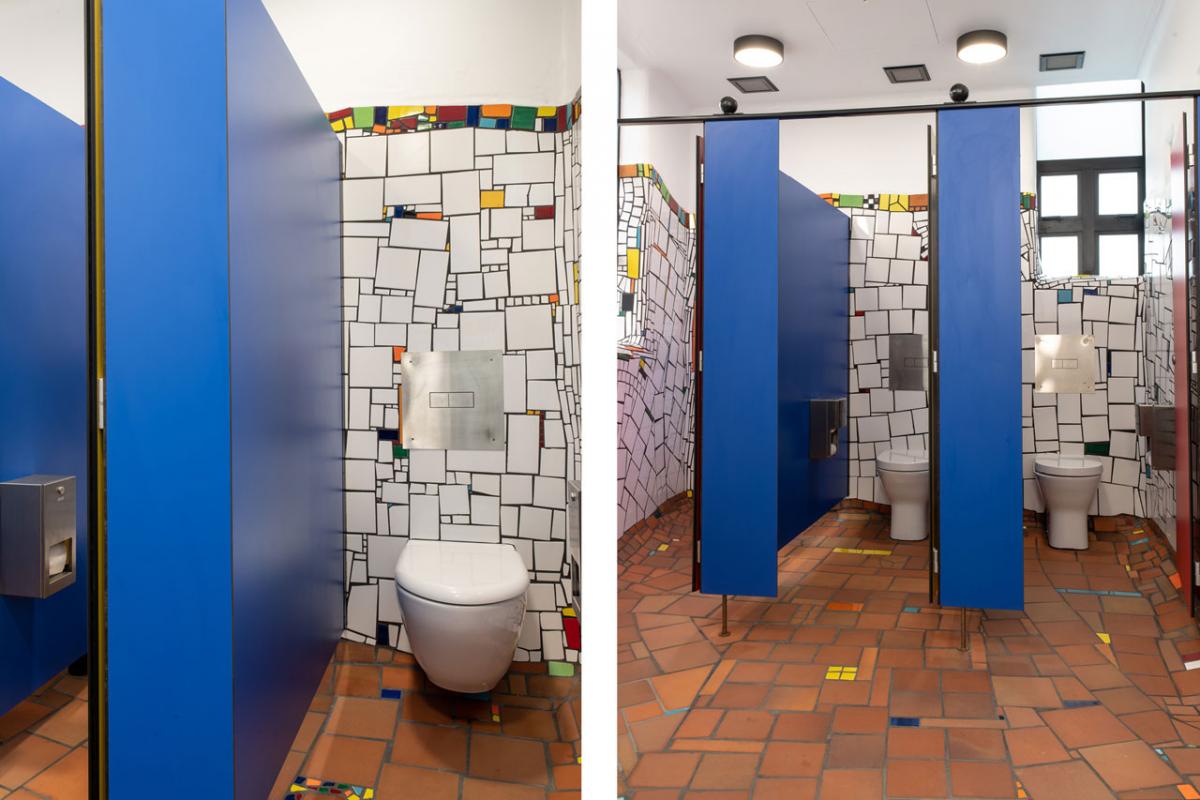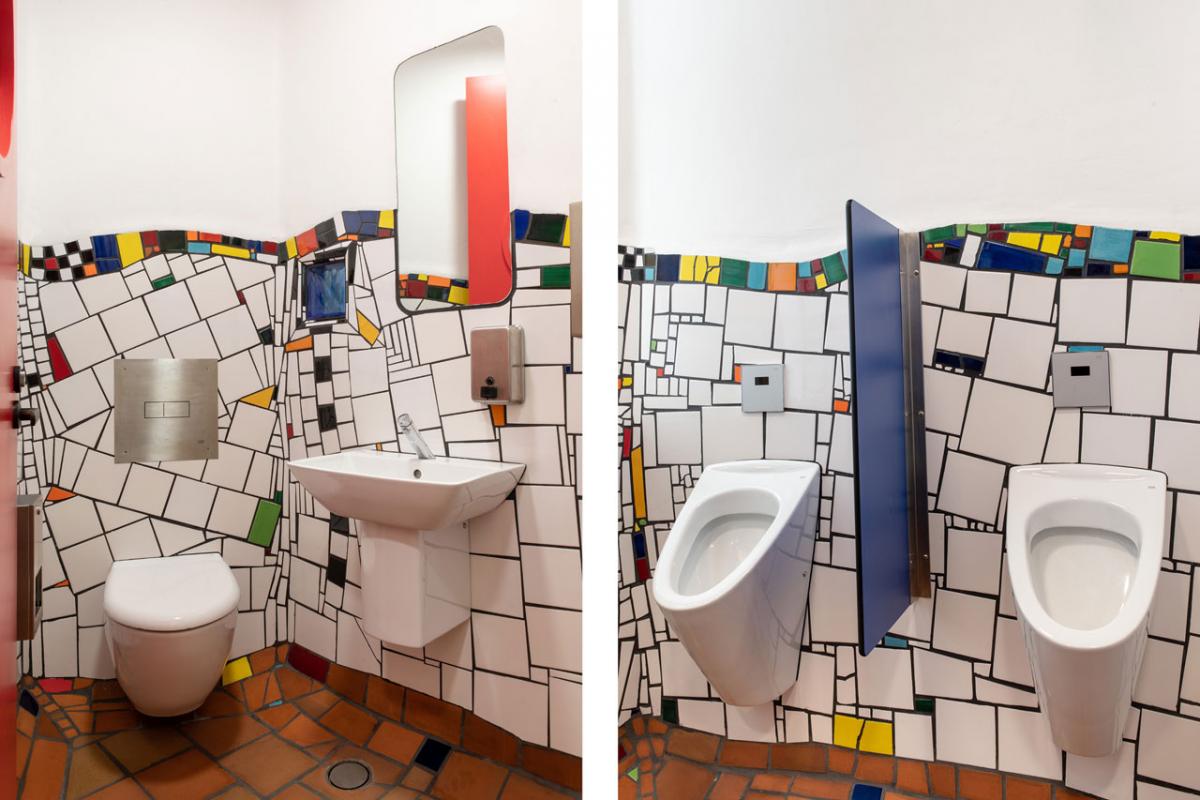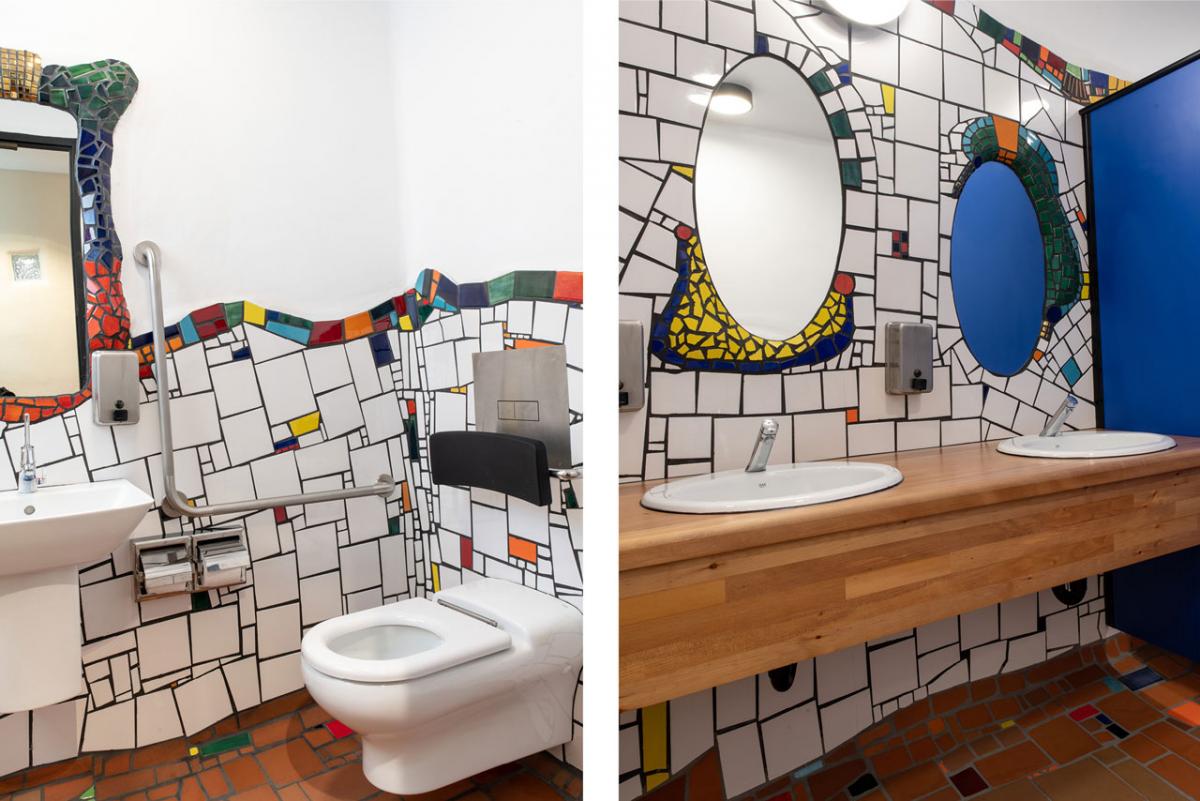 Products supplied:
Delabie Basin Mixer - DE2521T (1 supplied)
Delabie Basin Mixer With High Swivel Spout - DE2506T2 (3 supplied)
Delabie Back Rest - DE510629 (4 supplied)
Delabie Tempomix 2 Time Flow Basin Mixer Lever Operated - DE700400 (4 supplied)
Delabie Premix Compact Thermostatic Mixing Valve - DE733 015 (3 supplied)
Delabie Temposoft 2 Time Flow Basin Tap - DE740500 (9 supplied)
Franke Stainless Steel Cleaners Sink - FRCS (2 supplied)
Stainless Steel Backsplash - FRCSBS (2 supplied)
RAK Caroline Basin - RA-CA2111HP55 (1 taken)
RAK Compact Accessible Wall Hung Toilet Pan RA-CO13455 (4 supplied)
RAK Compact 550 Semi Recessed Basin - RA-CO221155 (2 supplied)
RAK Urinal Sensor - RA-FS10-6V (3 supplied)
RAK Resort Rimless Wall Faced Toilet Pan - RA-RE1124PP (3 supplied)
RAK Reserva Wall Hung Toilet Pan - RA-RS1314 (8 supplied)
RAK Summit Wall Hung Basin and Shroud - RA-SU2111HP50 (5 supplied)
RAK Venice Wall Hung Urinal - RA-VE3200 (3 supplied)
Zurn Dual Flush Valve - ZDF-6152XL (15 supplied)
Zurn Dual Flush Valve - ZDF-PA (15 supplied)
Zurn Sink Faucet For Cleaners Sink - Z-SF (2 supplied)